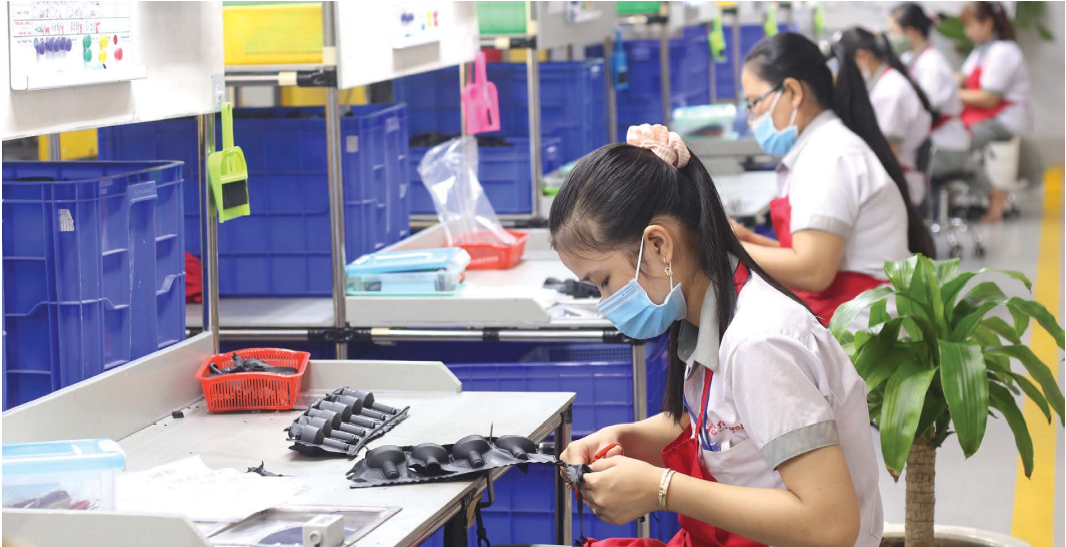 Photo: Le Toan on www.vir.com.vn | March 21-27, 2022
This piece was originally published on Vietnam Investment Review.
At the UN Environment Assembly on March 2, the world's ministers of the environment endorsed key resolutions that established a solid foundation for the introduction of an international legally binding agreement to end plastic pollution and a resolution to enhance circular economy as a key contribution to achieving sustainable consumption and production.
For the first time, the contributions of the informal waste workers - who are typically low-paid workers who collect recyclable waste - have been recognised in an environmental resolution. Moving forward, the intergovernmental negotiating committee will consider the lessons and best practices from the work of informal waste workers. While this inclusion is something to celebrate, there was no specific mention of women and the gendered aspects of the informal waste sector.
Yet globally, women make up the majority of the workforce working in the informal waste management sector. Here in Viet Nam, over 60 per cent of them are women who work in precarious situations and are exposed to harmful substances and chemicals along the value chains in the textile, agriculture, or waste sectors. Women are disproportionally impacted by plastic pollution. They also have direct exposure to toxic gases and emissions from waste-burning, cooking fuels, and can suffer from heat-related diseases and skyrocketing air pollution levels.
Last November, Viet Nam's Prime Minister Pham Minh Chinh explained at COP26 in Glasgow the need for Viet Nam to transition to a development model towards a green, circular, sustainable, inclusive, and humanistic economy. As Viet Nam strives to build back better from the pandemic, it is imperative to set the stage to work towards gender equality, circular economy, and climate action simultaneously as interconnected issues to deliver the transformational systemic change needed to protect the planet and achieve the Sustainable Development Goals by 2030.
Now is the time to take action. To set in motion a transition to a just circular economy model, we propose a three V model to empower women and generate a green, inclusive, economic rebound.
Value, venture, and velocity
Firstly, we must value, welcome, and acknowledge the contributions of all women, especially women from rural areas, ethnic minorities, and young women who are already working towards a greener and more inclusive sustainable development, advocating for renewable energy, decarbonising their agricultural production, or scaling-up innovative alternatives to plastics.
For example, more than 1,500 women informal waste workers in five cities have joined local groups set up by women's unions. They receive training on health and safety, waste segregation, and circular principles. They can also access revolving funds managed and disbursed by women's groups to purchase equipment that will add value to their work and enhance their livelihoods.
Another example is women farmer cooperatives in the south-central province of Binh Thuan, which have led the adoption of low-carbon practices throughout the dragon fruit value chains. Along with the greening of production, the additional training in e-commerce provided extra support to overcome economic losses incurred by pandemic restrictions and broaden their customer base.
Throughout these interventions, we have witnessed the critical roles of the women's union and women-led cooperatives that are increasing the skills and knowledge of women who are already engaged in critical activities, but the reach of this knowledge goes beyond these women and directly permeates throughout their communities.
Secondly, we must design new ventures that embed women in policy-making processes for a just and inclusive transition. Bottlenecks exist that hamper Vietnamese women from fully benefiting from, and contributing to, the circular transition. These include limited participation in policy formulation, lack of systematic gender mainstreaming of industrial policies, limited access to financial and technical resources and concentration in the informal sector, and the burden of unpaid care work.
For instance, it is critical to ensure that the current trend of formalisation of the waste management sector is not achieved at the expense of women. In this connection, the United Nations Development Programme (UNDP) is setting up an inclusive material recovery facility in the south-central province of Binh Dinh to generate direct and indirect employment for women working across the waste value chains while piloting plastic reduction projects in the fishery sector, with financial support from the Norwegian government.
Women are also found to be more sustainable consumers and inclined to adopt greener and sustainable practices, from water savings to the purchase of eco-labelled products or the use of low-carbon transportation modes. The emergence of social impact business ecosystems in Viet Nam, mainly driven by women, also reflects the influence of women in changing both consumption and production patterns for circularity.
Thirdly, we must commit to expanding the opportunities for women to take leading roles that give velocity and drive to the transition. Circular economic and climate policies will have implications for the future of jobs. A recent study by the UNDP in Indonesia found that 75 per cent of the 4.4 million jobs created by adopting circular opportunities in four sectors will be for women because sectors traditionally employing more men will be displaced. This means that we need to considerably invest in educating the new generation of women engineers, architects, scientists, and urban planners.
Extending support
With any transition, there is a need to ensure that all people, especially women and marginalised communities, are cushioned from changes that might negatively impact their livelihoods.
Many countries, such as South Korea, Singapore, and South Africa have developed social inclusivity packages to support and accelerate the green and sustainable recovery of their economies in a just manner.
These include building the capacities and re-skilling workers from polluting industries, mobilising international climate finance that will benefit women and marginalised groups, prioritising measures that deliver on co-benefits, providing technical and financial support to micro, small, and medium-sized enterprises for green pre-commercial opportunities, developing strategic partnerships between the private sector, government, and civil society organisations.
With UNDP support, the Viet Nam Circular Economy Hub is diving into all aspects of transitioning to a carbon-neutral circular economy, from technical aspects to social and financial aspects, to ensure a just transition.
The current global momentum around the circular economy provides an excellent opportunity to locate women's equality and empowerment as fundamental guiding principles by adopting the three V's of valuing women's contributions, designing new ventures, and providing velocity for a just transition.
The UNDP calls on all its partners to embrace a new mission for an inclusive carbon-neutral circular economy – one that re-shapes value chains, re-thinks consumption patterns, and shakes up entrenched gender dynamics for a just transition that ensures that no-one is left behind.