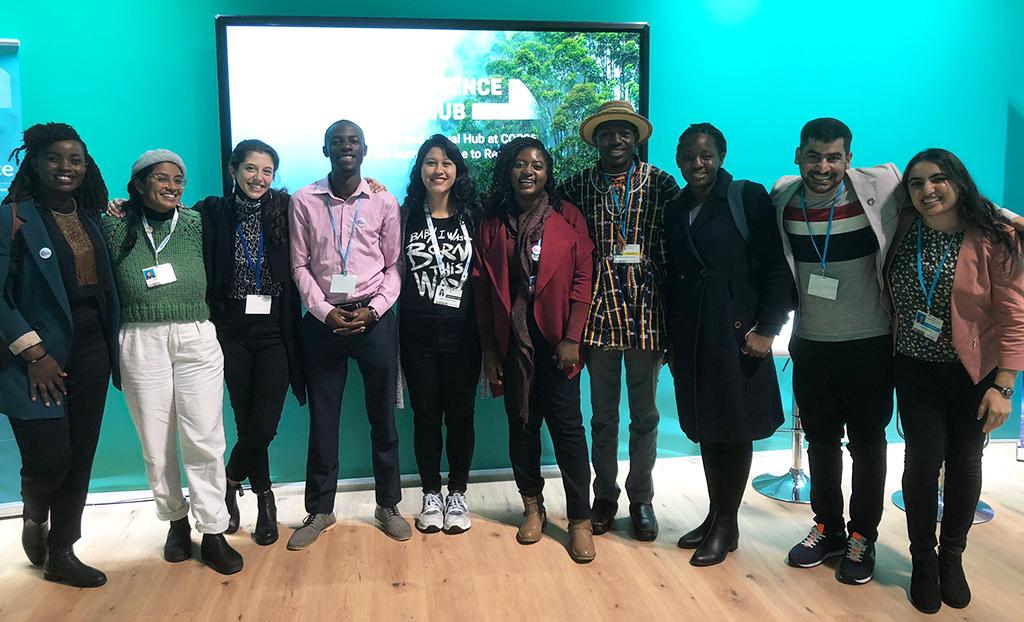 Credit: Dominique Souris/Youth Climate Lab
"They say there is hope at the end of the tunnel but in my view the tunnel seems not to end."
This piece was originally published on UNDP.org.
The outbreak of the COVID-19 pandemic has made it very difficult to plan for physical events, which is why critical climate talks known as COP 26 had to be postponed in 2020. All throughout 2021, it remained difficult to predict if there would be an in-person COP or not – but one thing that people have been certain about are the increasing impacts of climate change, not only in developing countries but also in developed countries such as Germany, Belgium, the Netherlands and Luxembourg.
Against all odds, COP 26 finally took place last month, hosted by the United Kingdom government in Glasgow, Scotland. The event saw the participation of government representatives, private sector and civil society. The participation of young people like me is always questionable in big meetings like these for, in most cases, we are not viewed as important stakeholders. In order to tackle this, the United Nations Framework Convention on Climate Change (UNFCCC) has created a mechanism for young people known as YOUNGO, which enables them to follow negotiations, have a say in decision-making processes and contribute to policy formulation.
As a young person from the Global South, my family was affected by cyclone Idai back in 2019. The disaster affected not only my family but close to 2.2 million people in Zimbabwe, Mozambique and Malawi. I was proud to attend COP26 as a representative of the Nationally Determined Contributions Contact Point of YOUNGO. Here are some of my reflections
1. Improved youth participation
This year's COP 26 witnessed an increased number of accredited young participants from all over the world, which was a huge achievement for the Official Children and Youth Constituency to the UNFCCC. The participation of young people would not have been possible without the support from UNDP's Climate Promise initiative which has been supporting young people in their countries' Nationally Determined Contributions enhancement process. Organizations such as UNICEF, UNFCCC Secretariat, Children and Youth International (CYI), and various governments also played a critical role. All of this enabled more than 200 young people participated at
COP26, a few as negotiators on behalf of their party delegation, with the remaining majority participating as observers. The engagement of youths in climate change policies was further strengthened by an outcome of Action for Climate Empowerment, which recognized youths as critical agents of change.
2. Green Job opportunities
Since COP24 in Poland, negotiators could not reach consensus on carbon credits and carbon markets, referred to in Article 6 of the Paris Agreement. At COP 26, however, some progress was finally made on this issue, which has a potential of creating green jobs and businesses through the Reducing Emissions from Deforestation and Forest Degradation REDD programs. The finalization of Article 6 comes at a time when most countries have submitted their NDCs. Establishing carbon markets will not only increase the ambition of countries to reach net zero, but also create an opportunity for them to access financial resources to achieve their NDC targets, which can specifically be channeled into climate change adaptation.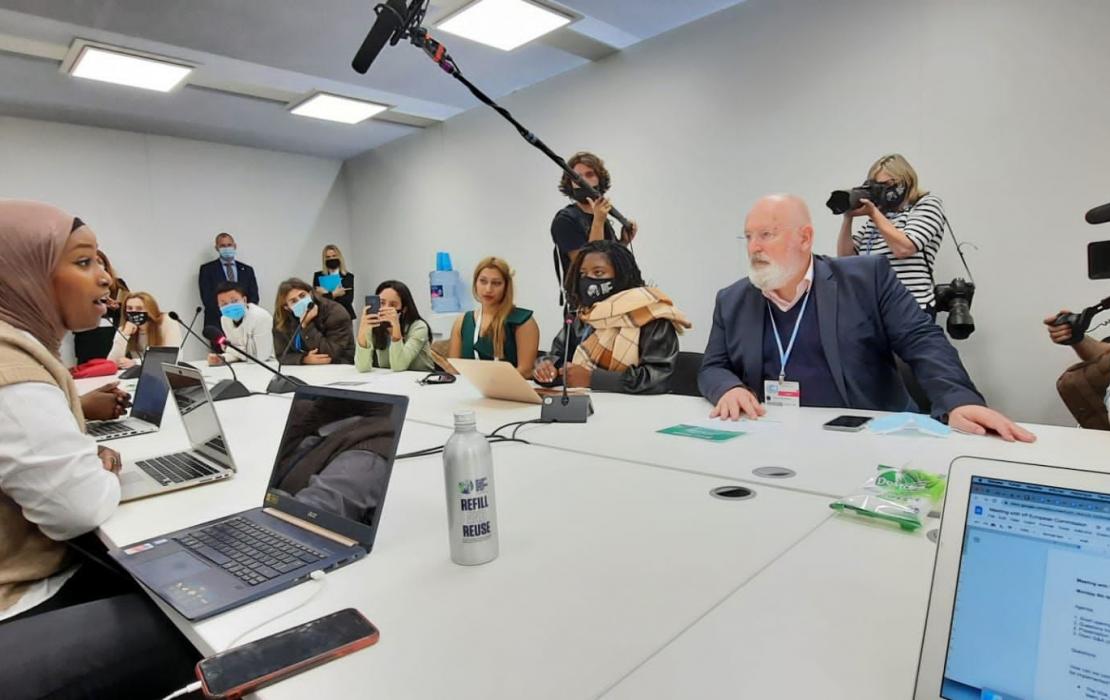 Credit: European Commission Media team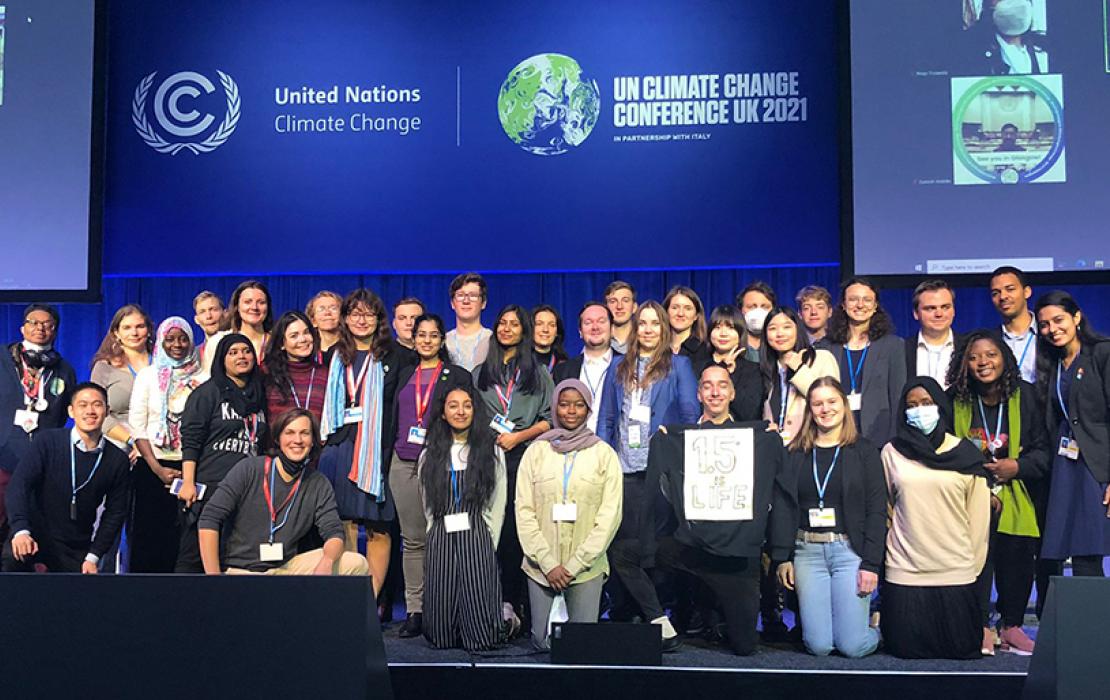 Credit: YOUNGO
3. Little hope for highly exposed countries
They say there is hope at the end of the tunnel but in my view the tunnel seems not to end. It is important that we understand the need for climate justice in highly exposed countries. The damages of cyclone Idai in Africa can still be seen and felt by our communities: landscapes yet to be restored, strong infrastructure yet to be built, some people left homeless. Unfortunately, the outcomes of discussions on how to address such impacts, referred to as Loss and Damage, was really not satisfactory at COP26. There was no consensus on a proposal from developing countries to set up a financing facility dedicated to loss and damage. Considering how developing countries contribute less to greenhouse gas emissions than richer countries, and yet are affected much more, it is only fair for highly exposed countries to be compensated for the losses they are already facing – and not waiting for two more COPs for consensus to be reached on a financial facility.
4. Uncertainties on building resilience and reducing vulnerabilities
Two of the four objectives set by the UK COP President at COP 26 were adaptation and climate finance. Building resilient communities is not possible without proper financial flows to support countries that are highly exposed to the effects of climate change. As the president of COP26 Alok Sharma put it: "It is up to all of us to sustain our lodestar of keeping 1.5 degrees within reach and to continue our efforts to get finance flowing and boost adaptation…" The mobilisation of US $100 billion annually to support developing countries by 2020 has clearly not been met and the outcomes of COP26 looked at the possibility of mobilizing $500 billion over 2021-2025, with the 100 billion being expected to be reached by 2023. Whether developed countries will commit to these pledges only the future will tell. But right now, looking at the present, droughts still continue to happen, floods are killing people in Small Islands and Developing States (SIDS), wildfires continue to happen in the Amazon affecting people's livelihoods and the ability of forests to sequester more carbon. Investing more into adaptation equips people to live in a changing climate, provides vast job opportunities which improves income generation, and helps people move from vulnerability to resilience.
As you can see, COP26 outcomes were a mixed bag of feelings and emotions. Countries have been encouraged to revisit their NDCs and resubmit with more ambitious goals in 2022 in line with 1.5 degree pathways. This will mean more resources again needed for consultations and technical experts, while I believe some of the resources should be used for taking action.
Lack of commitment and urgency in committing to climate finance, ambitious NDCs, and Loss and Damage not only undermines the Paris Agreement but shows lack of priority by different Parties on issues to do with climate change. The choices we make today have a great impact in the future. We can and must do better.