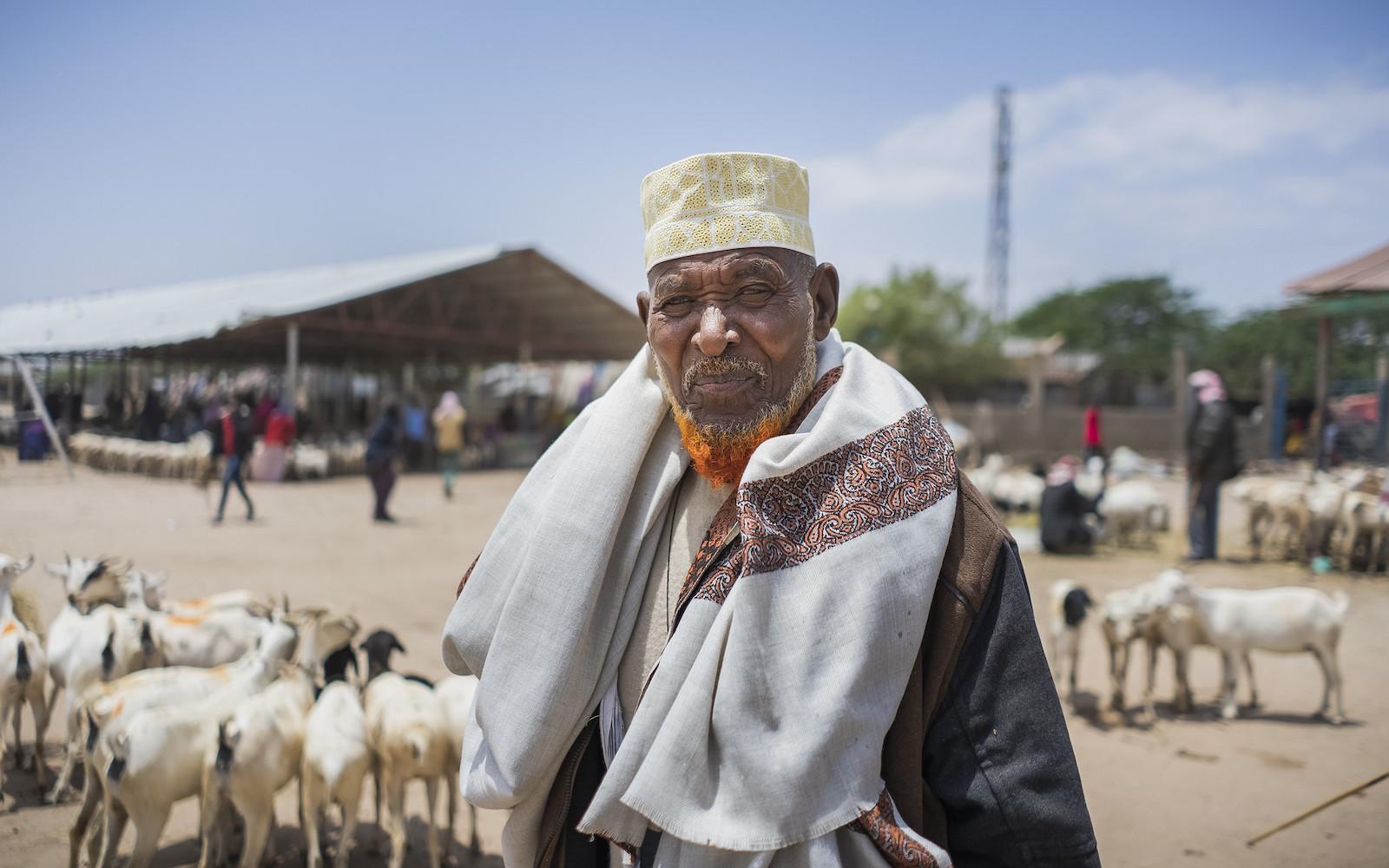 An elderly man in a Somali livestock market. Photo: Said Fadhaye/UNDP Somalia
In recent years, Somalia has worked to carve a climate-resilient path forward, but success depends on international financial support.
With 69 percent of its 16 million people living below the poverty line, Somalia is one of the poorest nations in Africa and the world. Due to its arid landmass, degraded habitats, and protracted conflict, the country also ranks the highest in terms of climate vulnerability among fragile states in the world.
Despite inconsequential historic greenhouse gas emissions (representing less than 0.09 percent of total global emissions), climate models show that Somalia could see mean temperatures increase between 3°C and 4°C by 2080.
This is bound to have devastating effects as the Somali economy is largely agrarian and dependent on food exports. Between 60 and 70 percent of the population are pastoralists, herding livestock – camels, cattle, goats, and sheep – as their primary occupation. Another 15 percent are practicing agriculture. As temperatures rise, shortages of arable lands, pastures, and water will expose millions to famine, extreme poverty, and violent conflict.
Ahead of last year's COP26, Somalia revised its Nationally Determined Contribution (NDC), with support from UNDP's Climate Promise. Despite its fragile context, the country raised ambition on both mitigation and adaptation measures, aiming to reduce greenhouse gas emissions by 30 percent compared to business-as-usual, strengthen adaptation and disaster preparedness in vulnerable sectors, and invest in climate-resilient development.
Many of the commitments in the NDC are building on the work that Somalia has been doing over the years with UNDP in areas like energy, water, climate security, and gender equality. Below are some examples of the support providing a solid foundation for Somalia's path to a resilient future.