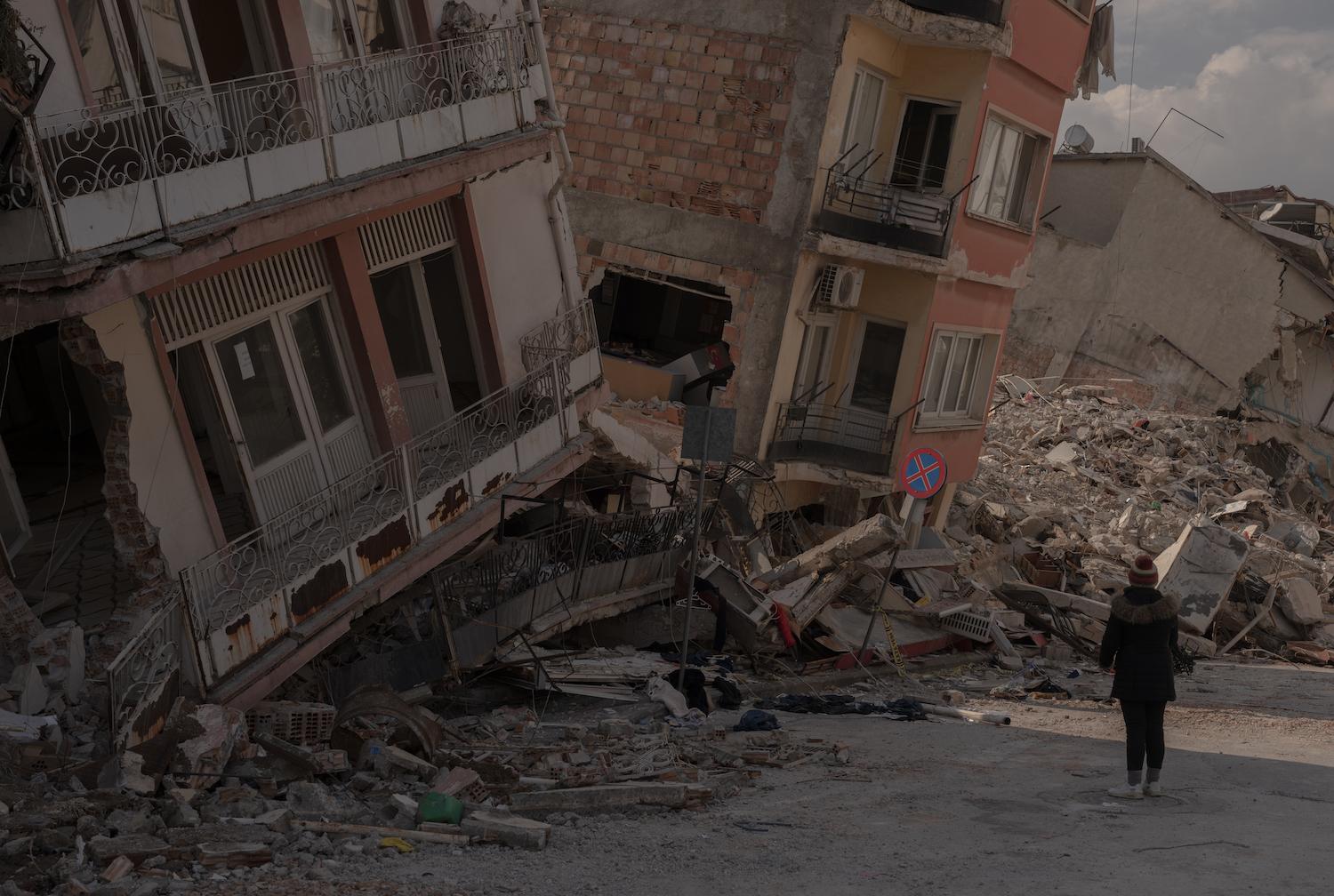 Photo: Mustafa Bilge Satkin
The death toll from the devastating earthquakes in Syria and neighboring Türkiye has surpassed 50,000 and continues to rise. Close to nine million people have been impacted in Syria alone. In Türkiye, an estimated one million people have lost their homes and 80,000 people are in the hospital. Across both countries, some 26 million people need humanitarian assistance, and many survivors still lack adequate medical care, clean water, and shelter. 
The earthquakes are not the only big disasters that have hit the international headlines in recent years. Climate and non-climate related hazards are impacting communities around the world. Severe floods in Pakistan, South Africa, Australia, and the US claimed thousands of lives and displaced millions, while droughts and heatwaves in the Horn of Africa, China, South America, and Europe battered food production, and worsened long-standing challenges.  
Repeated climate-related disasters in recent years have reduced people's resilience and ability to withstand and recover from shocks such as the recent earthquake. The cascading impacts from these catastrophes have provided the world with a much-needed wake-up call for more disaster resilience systems.
Disaster resilience is the ability of individuals, communities, organizations, and states to absorb, adapt, anticipate, recover and transform in the face of hazards, shocks, or stresses without compromising their long-term development. Many countries are now shifting their approach from managing disasters, too long seen as one-off events, towards reducing the vulnerabilities and risks that are inherent in every-day development decisions and investments. Countries are engaged also in climate change adaptation planning through their national adaptation plans and NDCs which identify priorities in the medium to long term. Tackling climate and non climate hazards require comprehensive approaches that cover climate, seismic, environmental and other types of risks in an integrated manner considering that they share the same underlying vulnerabilities.  Building resilience systems not only help to tackle emergencies but also slow onset events such as prolonged droughts and global heating, which need greater investments.
Developing countries clearly recognize the enormity of the challenge. They must decarbonize their economies, brace for future climate disasters, while often rebuilding from current disasters, without incurring more debt and jeopardizing their Sustainable Development Goals (SDGs). As a 2022 report from African Development Bank notes, climate impacts now cost the continent upwards of 15 percent of its annual GDP growth per capita, making it harder to invest in clean technologies that cost more up front to install. In turn, some African leaders are considering lucrative deals for new fossil fuel production, saying they need the money.
Resilience is the shared foundation of many global agreements that aim to guide progress towards a more sustainable future. The Paris Agreement seeks to minimize loss and damage from the impacts of climate change and build resilience through carbon-neutral growth, while the Sendai Framework for Disaster Risk Reduction seeks to reduce "risks to" development through investments that can resist shocks and disasters, while ensuring "risks from" unsustainable development practices. The 2030 Agenda for Sustainable Development also seeks to hardwire disaster risks into development, with six SDGs that highlight resilience.
In view of the high levels of earthquake risk which have accumulated in our increasingly urbanized world, and more climate-related hazards and extreme weather events looming on the horizon, calls for more integrated disaster risk reduction efforts and climate change policy, planning and action should be considered. Almost all developing countries have identified their medium to long term disaster resilience and adaptation needs in their NDCs. Under the UN climate talks, a 2022 review of countries' national climate plans shows that most are incorporating disaster risk reduction into their implementation processes and citing disaster preparedness as a key capacity building need. For the 2023 SDG Summit, the UN Secretariat has now published a report calling for international efforts to support developing countries' long-term resilience. Nations increasingly understand that, without effective disaster resilience, and a more people-centered approach, their hard-won sustainable development gains could be quickly lost. 
Chad Carpenter, UNDP's Climate Promise
Rohini Kohli, Climate Change Adaptation Team
Angelika Planitz, Disaster Risk Reduction & Recovery for Building Resilience Team