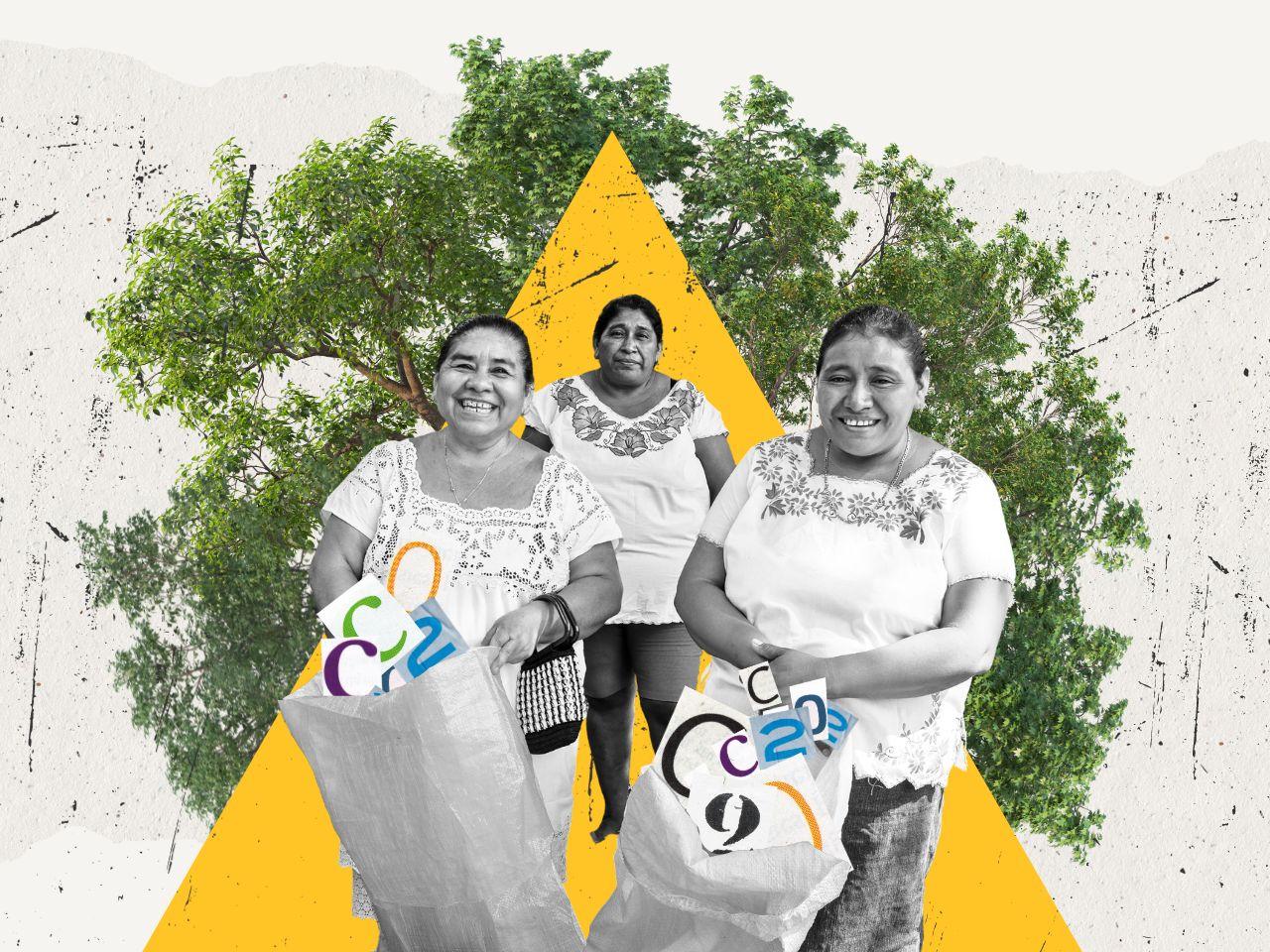 Summary
Forests are critical ecosystems, providing habitats for most of the planet's species and livelihoods for nearly one billion people. Healthy forests play a crucial role in mitigating climate change by acting as carbon sinks, absorbing billions of metric tonnes of CO2 annually. However, they are under threat due to deforestation and degradation.
Preserving and restoring forests is essential for achieving the world's climate goals.
Financial support for forest-based climate solutions is woefully insufficient, with current funding falling far short of what is needed to make meaningful progress.
UNDP supports countries on promoting sustainable forest management, deploying innovative finance mechanisms and designing policies to enhance conservation efforts and climate resilience.
What makes forests so important for people and the planet? 
Forests cover nearly a third of the Earth's land surface, equivalent to the combined areas of Brazil, Canada, China, and the United States. These 4 billion hectares of forests are not just vast swathes of greenery. They constitute a vital component of almost every facet of life on our planet.  
Forests are ecosystems where rich biodiversity thrives, serving as home to 60,000 different tree species, 80 percent of amphibian species, 75 percent of bird species, and 68 percent of the world's mammal species. They provide immense ecosystem services, such as helping to regulate global rainfall patterns, safeguard water resources, and prevent flooding and soil erosion. 
In addition, forests are catalyzers of economic, ecological, and sociocultural well-being for many communities around the world. For the nearly 1 billion people who depend on them for their livelihoods, forests provide access to clean water, food, and medicines, and reduce the risk of land-based climate disasters. Moreover, healthy forests act as buffers between humans and wildlife and limit the spread of zoonotic infectious diseases.
At the same time, 70 million Indigenous People call forests their home and act as their primary caretakers and custodians. For them, the health of the forests is, in essence, a matter of survival.  
There is no doubt that ensuring the conservation, sustainable management, and restoration of forests has immense benefits for people and for the planet.  
Why are forests critical to fighting the climate crisis? 
Healthy forests are powerful carbon sinks, meaning they absorb and store carbon dioxide. Estimates show that globally, between 2001-2019, forests absorbed twice as much carbon as they emitted, or 7.6 billion metric tonnes of CO2 per year. Therefore, forests provide a crucial capacity to remove greenhouse gases (GHG) from the atmosphere and help us avoid the worst impacts of the climate crisis. According to findings from the Intergovernmental Panel on Climate Change (IPCC), the agriculture, forestry, and other land use (AFOLU) sector can provide up to 30 percent of the GHG emissions reductions needed to limit global warming to 2°C, at a relatively low cost. For the AFOLU sector, many high-impact mitigation opportunities are found within forests. 
As one of the most effective nature-based solutions, forests are prime examples of natural recovery and adaptation. Their resilience, however, doesn't shield them from anthropogenic stressors, including land-use change, deforestation, agricultural intensification, and urbanisation. 
Deforestation and forest degradation currently account for up to a fifth of global greenhouse gas emissions. To make matters worse, as global temperatures keep rising, forests become increasingly susceptible to drought, wildfires, pests, and disease. As forests disappear, their immense carbon storage capacity is lost, and the carbon dioxide released further exacerbates the greenhouse effect.  
Adopting a holistic approach to sustainably manage our forests is key to effectively combating climate change. By eliminating emissions from deforestation and forest degradation and facilitating forest regrowth and landscape restoration, we can significantly reduce global net GHG emissions.  
If we really want to avoid breaching the crucial 2°C global warming threshold, we must collectively conserve, restore, and sustainably manage forests, based on the recognition that they play an invaluable role in realizing that target.  
Photo: UNDP Guatemala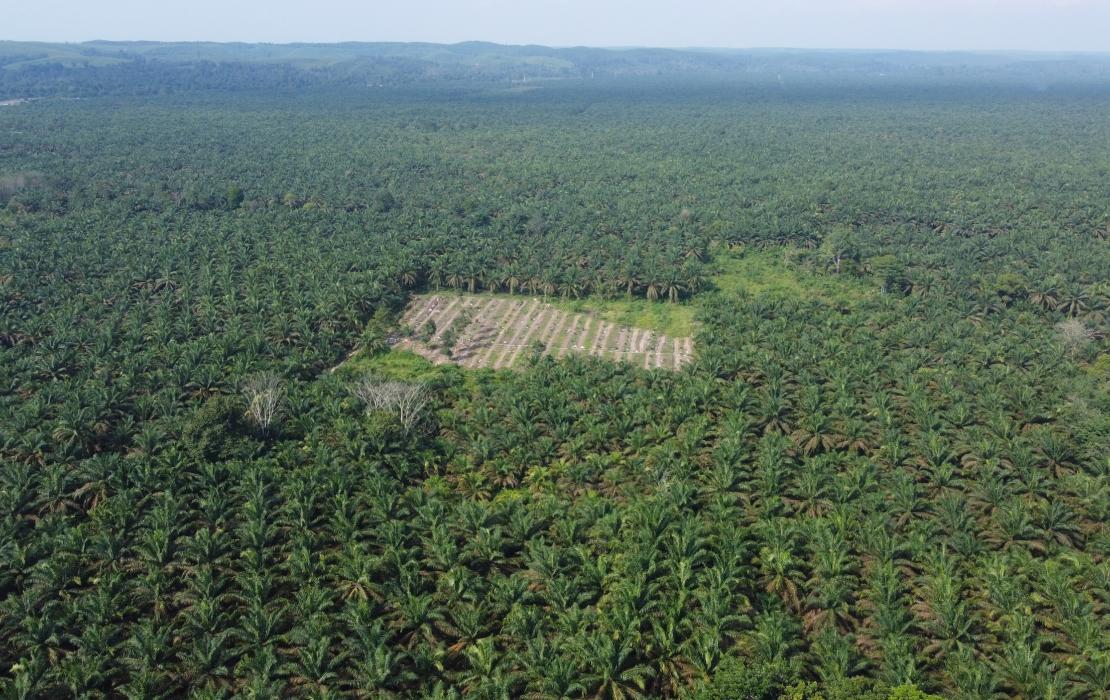 Photo: UN-REDD Programme
What are the challenges? 
Global demand for commodities 
The global demand for commodities such as soy, palm oil, beef, and timber fuels deforestation. These commodities are essential components in global supply chains where the demand for cheap and abundant products has driven the expansion of their production, often at the expense of forests. Without addressing the root causes of this demand, it's difficult to halt deforestation linked to commodity production. 
Many commodity producers prioritize short-term profits over long-term sustainability. They may engage in unsustainable logging, overgrazing, or excessive use of pesticides and fertilizers, which harms both forests and surrounding ecosystems. Moreover, the complex global supply chains for commodities often make it difficult to trace the origin of products. This lack of transparency can enable illegal logging and deforestation to go unchecked, as products from deforested areas can be mixed with those from legal sources. 
Insufficient finance 
Domestic and international finance for forest-based climate mitigation solutions averages US$2.3 billion per year, representing less than one percent of the necessary total. This negligible allocation is woefully inadequate and severely undermines the transformative impact that forests can have in achieving the ambitious goals set forth in the Paris Agreement. 
As unveiled in the 2022 Forest Declaration Assessment, not a single global indicator is on track to meet the 2030 goals of stopping forest loss and degradation and restoring 350 million hectares of forest landscape. Funding to meet those indicators is still only a fraction of what is needed. Indigenous Peoples (IPs) and local communities (LCs), who are integral to sustainable forest management, still receive far less funding than they need for securing land tenure rights and preserving forest ecosystems. Only 1.4 percent of total public climate finance in 2019 and 2020 was allocated for IPs and LCs, and only three percent of the financial need for transformational land tenure reform is being met annually. 
 
Land tenure and rights 
In many regions, unclear land tenure and rights contribute to deforestation. Disputes over land ownership, lack of recognition of Indigenous and local community rights, and conflicting land use regulations lead to forest clearance. Governments often claim ownership of vast forested areas, while Indigenous communities hold traditional or customary rights. This lack of clarity can create fertile ground for illegal logging, land encroachment, and deforestation as there's no clear authority responsible for safeguarding these lands.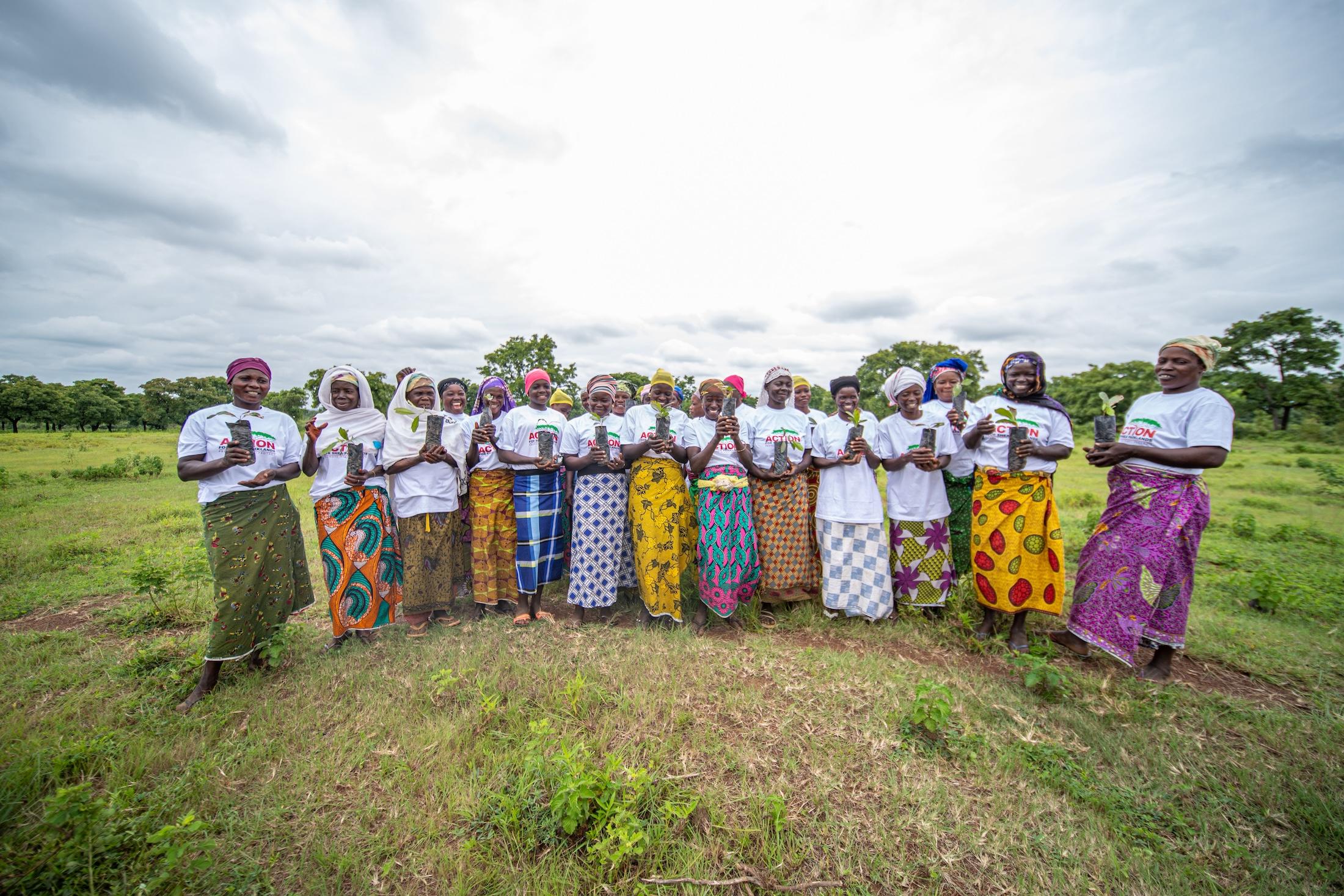 Photo: CIFOR
What is UNDP doing to help countries reduce deforestation? 
UNDP is at the forefront of global efforts to combat deforestation and its devastating consequences. Recognizing that deforestation and forest degradation are interconnected with climate change, UNDP assists countries in designing and implementing national policies and measures aimed at reducing deforestation and promoting sustainable forest management. This suite of activities is known as REDD+ (Reducing Emissions from Deforestation and Forest Degradation) and ensures that these climate change mitigation efforts in the forest sector are embedded in countries' official mitigation targets (known as Nationally Determined Contributions, or NDCs). 
REDD+ represents an innovative approach that not only combats deforestation but also offers a gateway for countries to access climate finance, providing new resources for development through a results-based philosophy. Some examples of UNDP's support include:   
In Ghana, UNDP is supporting efforts to restore 500,000 hectares of savanna lands and degraded shea parklands, alongside establishing 25,500 hectares of forest plantations, contributing to forest conservation and climate change mitigation. 
 
In Brazil, UNDP is working directly with nine Brazilian states and civil society organizations to ensure compliance with the Architecture for REDD+ Transactions (ART) standard for the quantification, monitoring, reporting, and verification of GHG emissions called The REDD+ Environmental Excellence Standard (TREES). Importantly, this enables participation in voluntary carbon markets and strengthens climate change mitigation.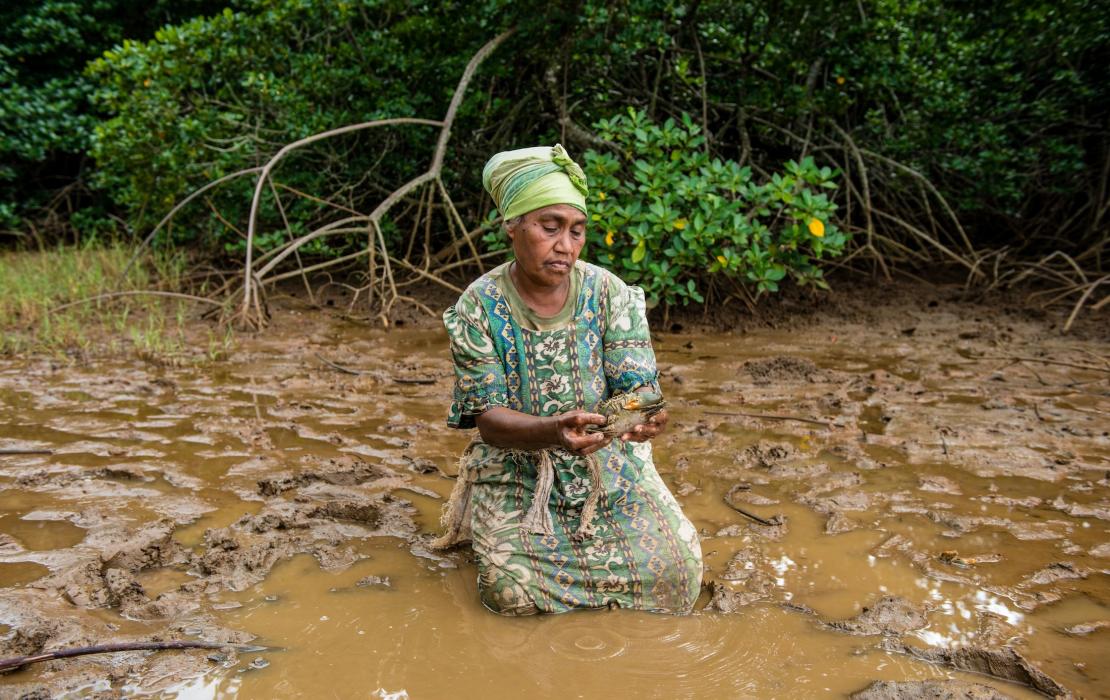 Photo: UNDP Fiji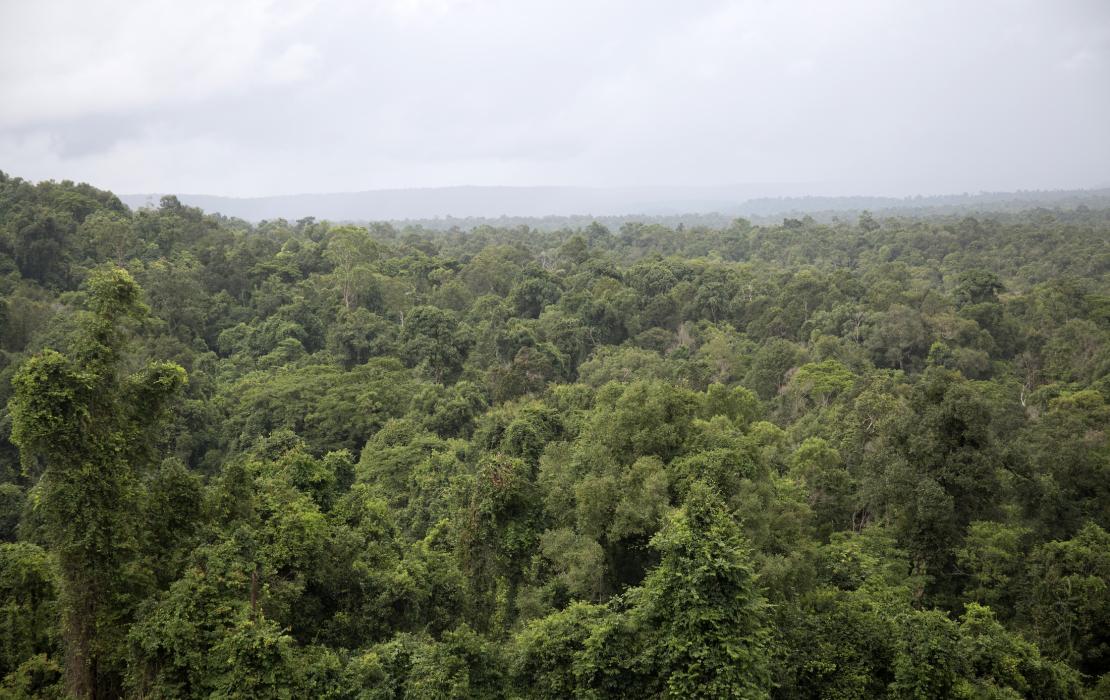 Photo: Samruol Im / UNDP Cambodia
In Kenya, UNDP is partnering with the government and various stakeholders to accelerate sustainable economic growth while addressing emissions from the forestry sector and fostering sustainable land management practices. Kenya has developed a National Forest Monitoring System and has set in place approaches for nesting and reporting and verifying emission reductions. 

In Ecuador, UNDP is supporting a pioneering partnership with the government and private sector, including Lavazza and SilvaCacao, to create a deforestation-free certification scheme. This scheme uses Ecuador's national forest monitoring system, UNFCCC-validated carbon assessment methods, and digital traceability via QR codes to ensure deforestation-free coffee and cacao production. UNDP provides technical support through Ecuador's PROAmazonia program, collaborating with Lavazza and local producers to set a model for top-quality, deforestation-free products. 

UNDP is using innovative instruments like "performance-based payments" which provide funds upon the achievement of pre-agreed, measurable, and independently verified development results, enabling fast disbursement of relatively high volumes of finance. In Costa Rica, this approach provided the basis for UNDP to transfer US$23.9 million for verified pre-agreed results. Costa Rica is using these funds, in part, to increase the accessibility of its Payment for Environmental Services Programme to women landholders and Indigenous communities. More generally, these payments are supporting the implementation of National REDD+ Strategy climate mitigation measures, in line with countries´ NDCs. 
UNDP also systematically promotes social equity and environmental integrity to ensure forest solutions to climate change contribute meaningfully to delivering both on the NDCs and advancing the Sustainable Development Goals (SDGs). 
In Costa Rica, UNDP is supporting the integration of gender perspectives into environmental policies, governance structures, and financial mechanisms, promoting women's economic empowerment and gender-responsive environmental incentives. 

In Indonesia, UNDP is supporting the Social Forestry programme to allocate 12.7 million hectares, equivalent to around ten percent of Indonesia's state forests, for management by Indigenous and local communities. This groundbreaking programme formalizes their customary or collective tenure rights and offers vital funding for sustainable forest management, community-based conservation projects, and the restoration of forests and landscapes.