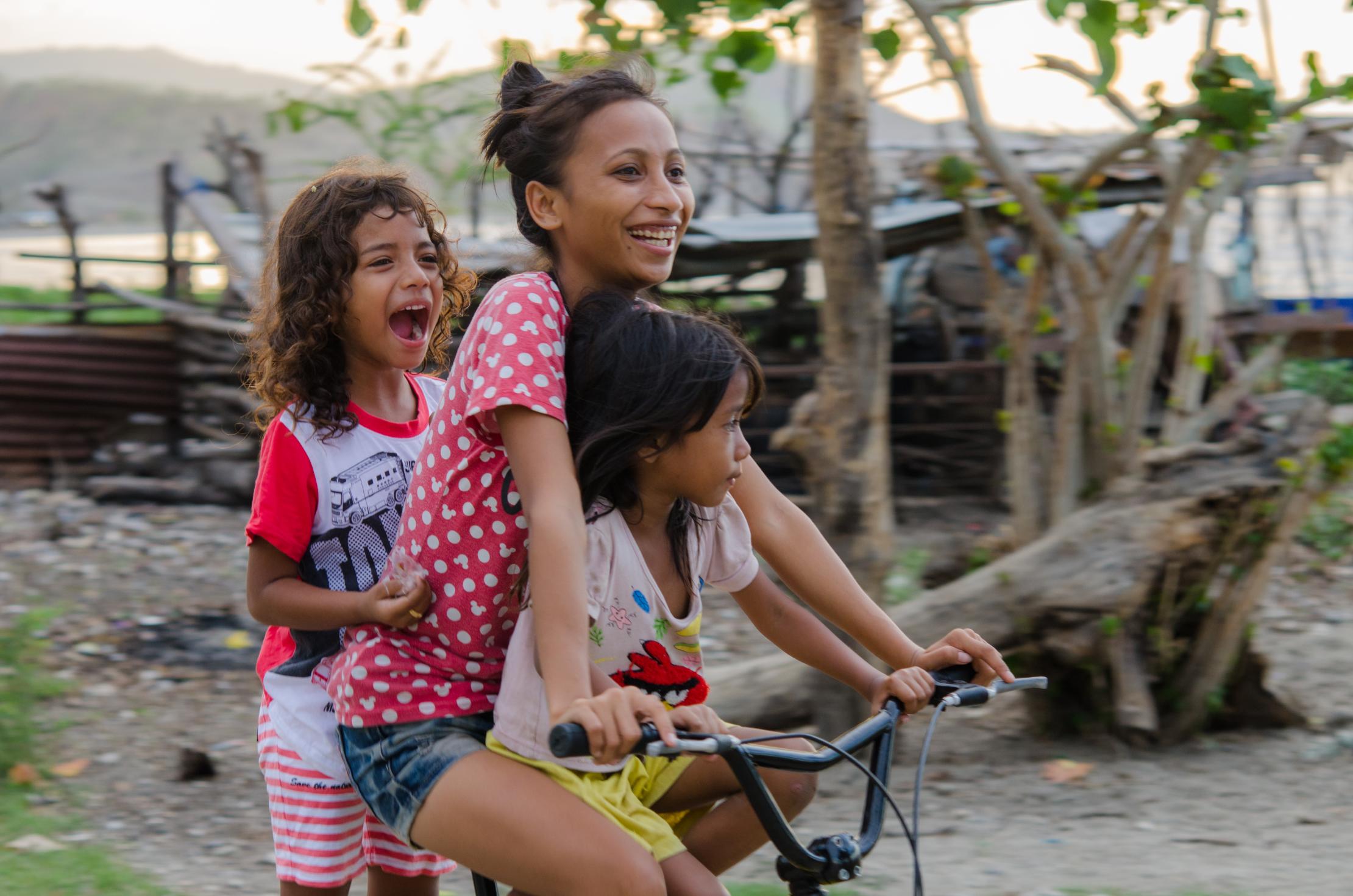 Photo: Yuichi Ishida/UNDP Timor-Leste
A decade ago, Tokelau, a group of three atolls in the South Pacific, was hailed as the world's first territory to be powered by solar energy. The islands of Fakaofo, Nukunonu and Atafu, once dependent on diesel to generate electricity, installed solar grids to provide cheap electricity for their villages. Today, despite a rise in electricity demand and battery shortages, solar still supplies 75 percent of the total power on the three atolls and diesel imports have been reduced by 80 percent. 
I visited Tokelau on several occasions as part of my work with UNDP. It takes 24 hours to reach the first island with a single boat that operates fortnightly. The motu – islets that together form an atoll – are so small that from the second floor of a home, one can see water surrounding land on both sides in a vast array of colours.
There, at the heart of a world that seems self-contained with its vibrant and distinct culture – faka-Tokelau – it becomes apparent why residents of small Pacific islands are seeking energy self-reliance to sustain their needs. In this pursuit, many are turning to solar energy.
Solar power strengthens energy independence 
As I am writing this blog, the global cost-of-living crisis is having deep repercussions on the Pacific Islands. The average inflation rate in the region reached 7.1 percent in 2022, surging as high as 12.4 percent in Palau. Pacific economies rely heavily on importing oil, which still provides up to 80 percent of the region's total energy and like all fossil fuels, is subject to price volatility. 
Conversely, the cost of producing photovoltaic panels has fallen by 93 percent in the last decade and solar now provides the cheapest source of electricity in history. Moreover, once the panels are installed, the energy generated remains unaffected by fluctuations in oil prices, keeping prices stable. 
The low cost of solar panels presents an opportunity for investing in solar energy across the Pacific Islands, giving governments in the region a way to curb inflation and promote energy independence.
Solar panels enhance energy access in remote islands
Connecting remote communities to a centralized power grid could be challenging and costly. In an archipelago like the Solomon Islands, which comprises 147 inhabited islands, approximately 24 percent of the population, or 190,000 people, continue to lack access to electricity.
To address this injustice, secluded villages can benefit greatly from off-grid solar energy systems paired with batteries, enabling them to generate and store decentralized energy. In the Solomon Islands, the consumption of electricity per capita is so low – approximately 160 times less than the average used in the top ten countries – that just a few solar panels for a household can be life-changing. Because of the low energy consumption on the islands, the issues of intermittency and limited battery storage that have proven to be challenges for the green energy transition in high-income countries are less of a shortcoming in the Pacific.  
Why then are we not seeing more photovoltaics in the Pacific? Setting aside the financing aspect, one challenge lies in the installation of solar equipment in remote places and its subsequent maintenance. Not only does setting up panels on a distant island require careful planning but dealing with their repairs or replacements down the road can become a difficult logistical problem. This underscores the importance of strengthening the whole solar production value chain. This means assisting communities in the Pacific to develop robust operations and maintenance skills and protocols including regular cleaning and monitoring of equipment to prevent malfunctions. Importantly, continually developing local capacity is vital as people move around and as technology evolves.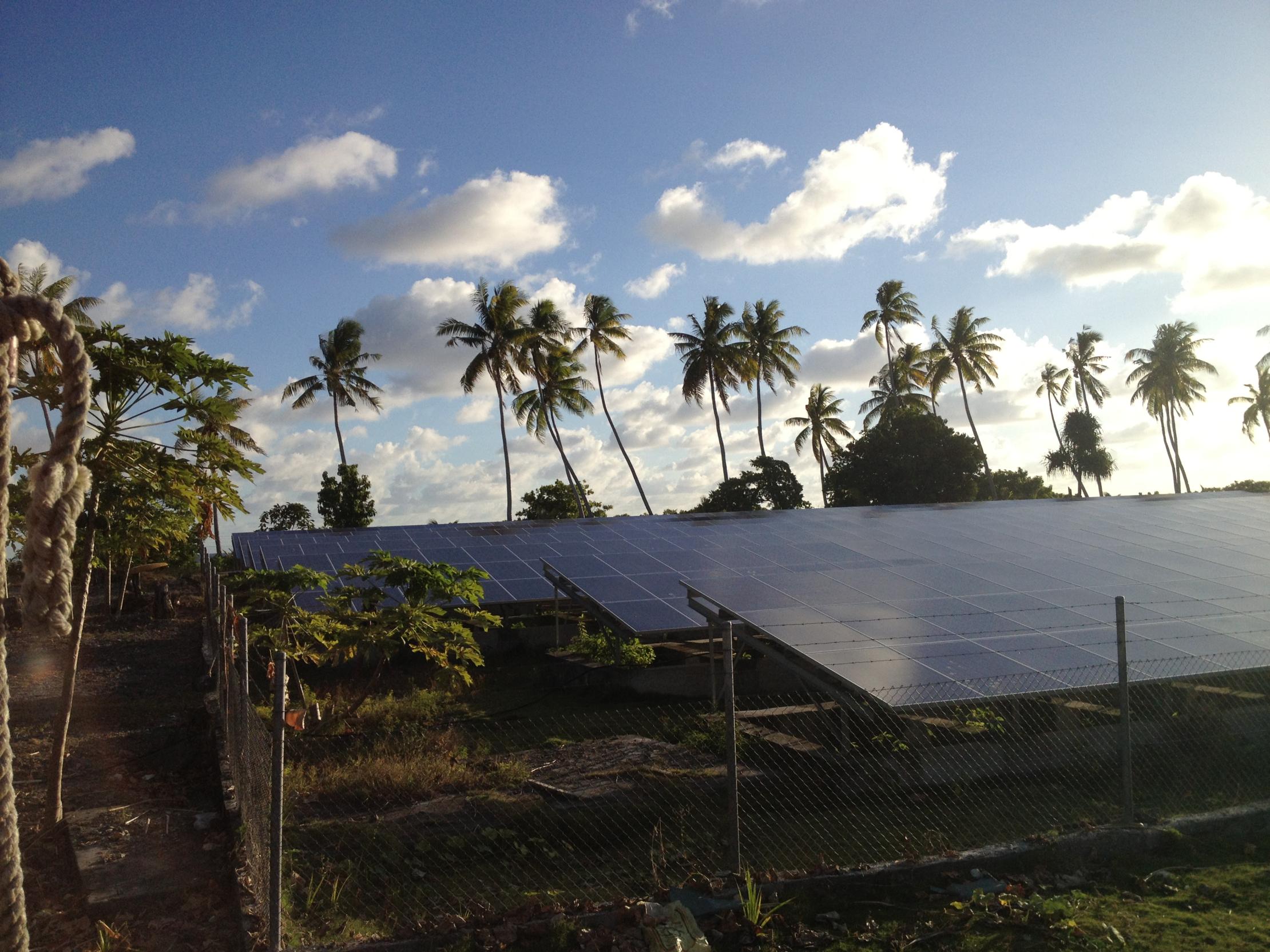 Solar Panels in Tokelau. Photo: UNDP/Andrea Egan
Solar panels provide energy security during and after extreme weather events
During rough weather conditions, fossil fuel imports are often unable to reach the Pacific islands. Trees can fall and sever electric wires while floods can block roads and damage generators, leading to power outages. In these situations, having a complementary energy source, such as solar power, can prove vital. For example, off-grid solar systems can power hospitals during grid outage and portable solar panels can ensure critical services such as emergency communications and water filtration.
Alarmingly, according to the Sixth Assessment Report by the Intergovernmental Panel on Climate Change (IPCC), the intensity and frequency of weather extremes is increasing, which will likely lead to recurrent Category 5 cyclones and floods impacting the Pacific region. As a result, it is additionally important to invest in resilient solar installations on Pacific Islands, which are already suffering from severe climate change impacts. This includes conducting a thorough site assessment beforehand, ensuring proper system anchoring and selecting durable materials such as reinforced frames and impact-resistant glass. If securely fastened, the technology can withstand even cyclonic conditions, as exemplified by the survival of solar farms on the island of Tongatapu during Cyclone Gita in 2018. 
All in all, solar power contributes not only to ensuring energy self-sufficiency, expanding energy access and reducing greenhouse gas emissions, but also to strengthening resilience against disasters in the Pacific Islands.
A sustainable path forward for the Pacific Islands
While solar power alone may not be able to fulfil all energy requirements in the Pacific region at this point, it can be supplemented by other renewable sources such as onshore wind and hydropower, depending on the unique circumstances of each island.
Pacific governments have already displayed commitments to renewable energy in their Nationally Determined Contributions (NDCs). Countries like Samoa, Fiji, Tonga and the Solomon Islands pledged to transition to 100 percent renewable electricity in the next 10 to 15 years.
UNDP, through the Climate Promise initiative, is supporting the region to implement their NDCs. Notably, a Japan-funded project worth US$36.8 million is now advancing green transformation in four Pacific Islands nations. This support includes installing three solar farms for the people of the Autonomous Region of Bougainville in Papua New Guinea and providing trainings for local people on how to operate and maintain them. It also includes setting up eight Pico hydropower stations in Vanuatu to deliver clean energy to local villages and investing in the adoption of electric mobility in Samoa.
For generations, people in the Pacific Islands have used renewable energy sources like wind for sailing, sun for drying crops and biomass for cooking. Today, they have an opportunity to harness these energies more efficiently than ever to help their societies become more resilient and prosper.