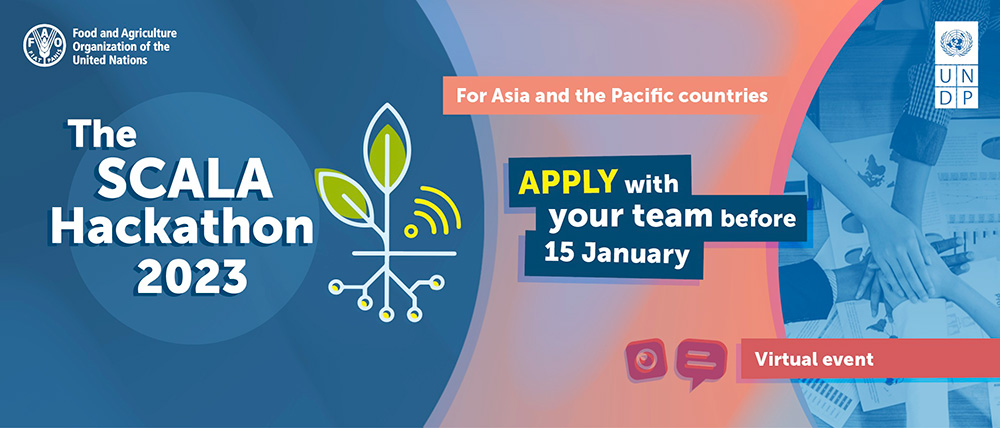 Are you living in a country in Asia and the Pacific?
Are you between the ages of 16-35?
Are you a young tech innovator or a social impact business owner?
Are you interested in working on sustainability issues in the agriculture and land use sectors?
Are you working to help achieve the Sustainable Development Goals?
If your answer is yes, submit your team's application to the SCALA Hackathon before 15 January 2023. Applicants can only apply as a team of two to five members. Teams with women and non-binary members are encouraged to apply.
The Hackathon will be a 2-day virtual event hosted by the FAO-UNDP Support Programme on Scaling up Climate Ambition on Land Use and Agriculture through NDCs and NAPs (SCALA) on Friday 3 February and Wednesday 15 February 2023 with mentoring sessions during the week. You will be required to be available on both days.  
What are we hacking?
The overarching objective of the SCALA Hackathon will be to find innovative digital and non-digital solutions that harness the power of technology to improve land use and agriculture sectors to achieve climate resilience and contribute towards climate adaptation goals in Asia and the Pacific countries' climate plans, such as nationally determined contributions (NDCs) and National Adaptation Plans (NAPs) in line with the Sustainable Development Goals (SDGs).
Participants will be provided with case study challenges during the SCALA Hackathon Bootcamp. Applicants will be able to choose one case study and are expected to create digital or non-digital innovative solutions to address the challenge(s) identified in their chosen case study.  
The Hackathon aims to encourage participants to:
Think critically to design practical and innovative products/solutions with the potential to address the challenge(s) facing the agriculture and land use sectors in Asia.  
Identify product/solutions that can empower smallholder farmers in Asian countries to improve on-farm climate resilience and help them access financial resources, to adopt on-farm climate resilience measures 
Expected outcomes from the Hackathon:
Innovative products/solutions to support the identification and appraisal of transformative actions for agriculture and land use to advance country climate plans; 
Innovative products/solutions to support the integration of agriculture and land use sectors' climate-related priorities into national, local, and sectoral plans and budgets; and 
Innovative products/solutions to support the mobilization of private sector investment and finance.
The format
The SCALA Hackathon is calling on all interested participants from across Asia and the Pacific to find innovative solutions to the current challenges facing the agriculture and land use sectors, specifically in Cambodia, Mongolia, Nepal, and Thailand.
Over 2 days, selected teams will be trained on topics such as human-centered design thinking, storytelling, pitching ideas, etc. and will work on finding cutting-edge and ingenious solutions to the challenges provided to them.
The hackathon will provide the participants with an exciting opportunity to engage in conversations with the technical experts from various fields and build collaborations with private sector partners, international development organizations and research organizations to potentially take forward their proposed innovations.  
What to expect
3 February 2023
Hackathon Bootcamp
This will be a 1-day capacity building workshop for teams to learn about some important tools and gain skills to develop their ideas and solutions, and how to prepare a pitch.
These sessions will be conducted online by experts in respective areas and can be accompanied by tools that can be used by the participants. It will be mandatory for all accepted teams to participate in the boot camp.
6-10 February 2023
Mentoring Sessions
Teams will have 1.5-hour sessions with mentors during which they will discuss their approach and ideas towards hacking the challenge. They will receive expert feedback from the mentors.
Each team will be paired with a mentor and during the week the teams and mentors can arrange a suitable time to discuss the chosen hackathon case study, technical concepts, discuss the proposed solution, and get feedback on their pitch decks.
15 February 2023
The Hackathon Event
The actual Hackathon event will be a half-day programme. On that day, there will be two rounds of pitching, based on the number of selected teams.
In the first round, all teams will pitch their ideas to the judges. Based on the scores, top 5 teams will be chosen for the final round of pitching. Out of the 5 teams, one team will be chosen as the winner.
The prizes
All selected participants/teams will be presented with a certificate of participation.
The participating teams will be featured on the FAO and UNDP SCALA websites, with the opportunity for the winning team to be interviewed for a special edition article. 
There will be an exciting opportunity for the winning team to further develop the winning/solution idea with a potential financial grant and to present their idea at the next SCALA Global Exchange in November 2023. Watch this space for more information.
The team will have the chance to connect with other teams from different countries and benefit from expert feedback and mentoring for their ideas and solutions during and after the hackathon event to help mature and scale them.