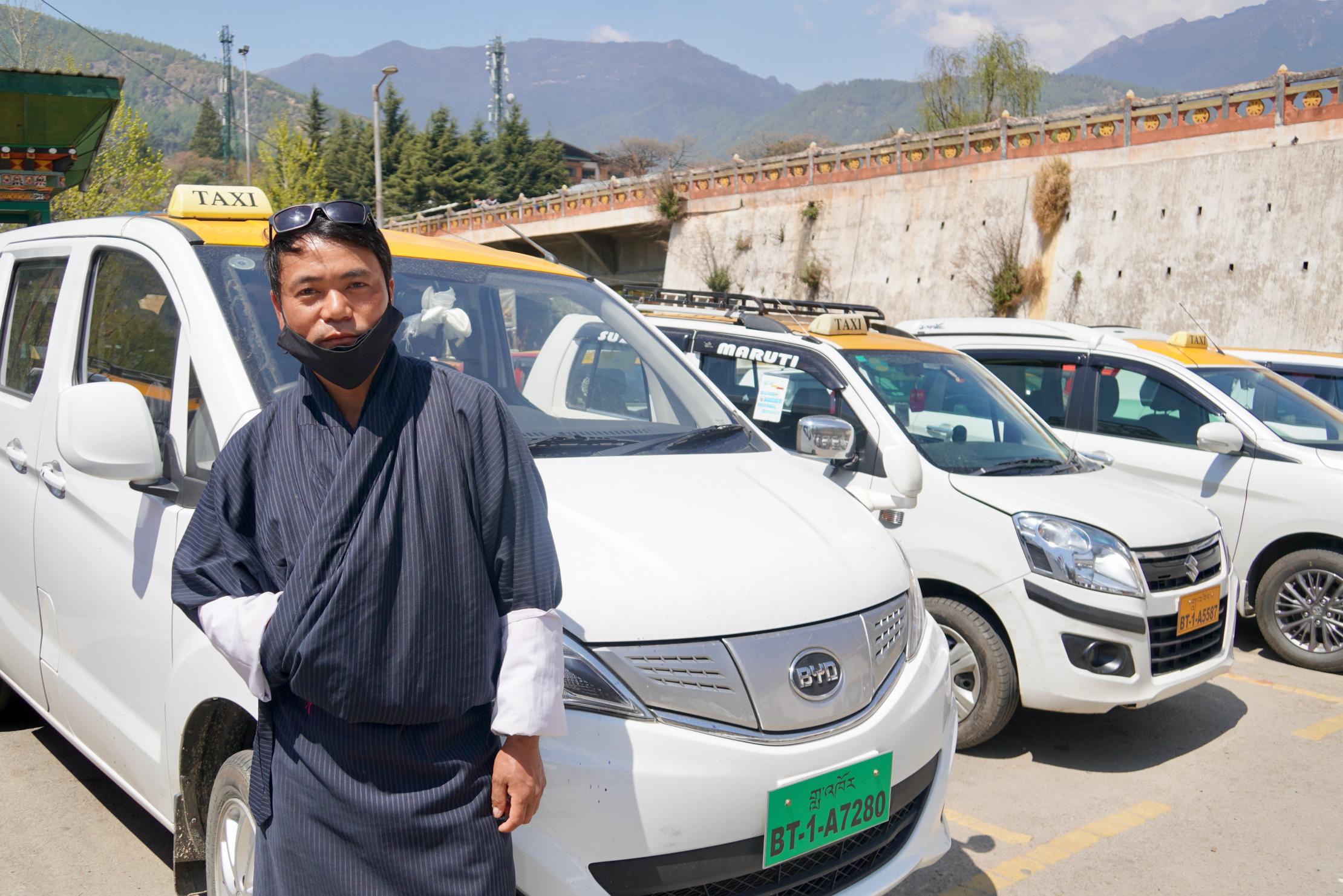 A taxi operator in Bhutan with his new EV. Credit: UNDP Bhutan
In 2012, the number of electric vehicles (EV) sold globally was 120,000. Fast forward to 2021 and the sales have reached a record of 6.6 million – a fantastic shift in just a decade.
Despite their seemingly recent popularity, electric cars have a surprisingly long history. The first EVs were created way back in the 1820s, and by 1899 electric cars had come to be preferred over steam- or gas-powered automobiles, as they were quieter and emitted less noxious exhaust fumes. Discovery of cheaper oils contributed to their decline, but with their potential to support sustainable transport and combat climate change, EVs are now making a comeback.
EVs are an important solution for countries to reach net-zero emissions, particularly with innovations helping decarbonize the electricity source and improve battery efficiency. According to the IPCC, greenhouse gas (GHG) emissions from the transport sector accounted for 15 percent of the emissions globally in 2019. To reach the targets set in the Paris Agreement, road electrification will be critical as EVs, coupled with clean energy, offer the greatest potential to reduce emissions in this key sector.
The good news is that take-up of battery-powered cars is already accelerating. In 2021 alone, the number of EV sales had doubled compared to the previous year. Supportive regulatory frameworks and economic incentives played an important role in this shift, along with an increase in available models and the continued fall in battery prices. Most EV sales are taking place in advanced economies, although many lower- and middle-income countries are working to address key barriers hindering widespread adoption of electric cars, such as high upfront prices, lack of charging infrastructures, and public misconceptions about EV costs and benefits.
Nationally Determined Contributions (NDCs) – countries' plans to address climate change under the Paris Agreement – can be a key opportunity to accelerate the electrification of transportation. A number of countries in Asia and the Pacific region have already started prioritizing e-mobility and decarbonization in the transport sector as part of their NDC implementation processes, with support from Japan and UNDP's Climate Promise.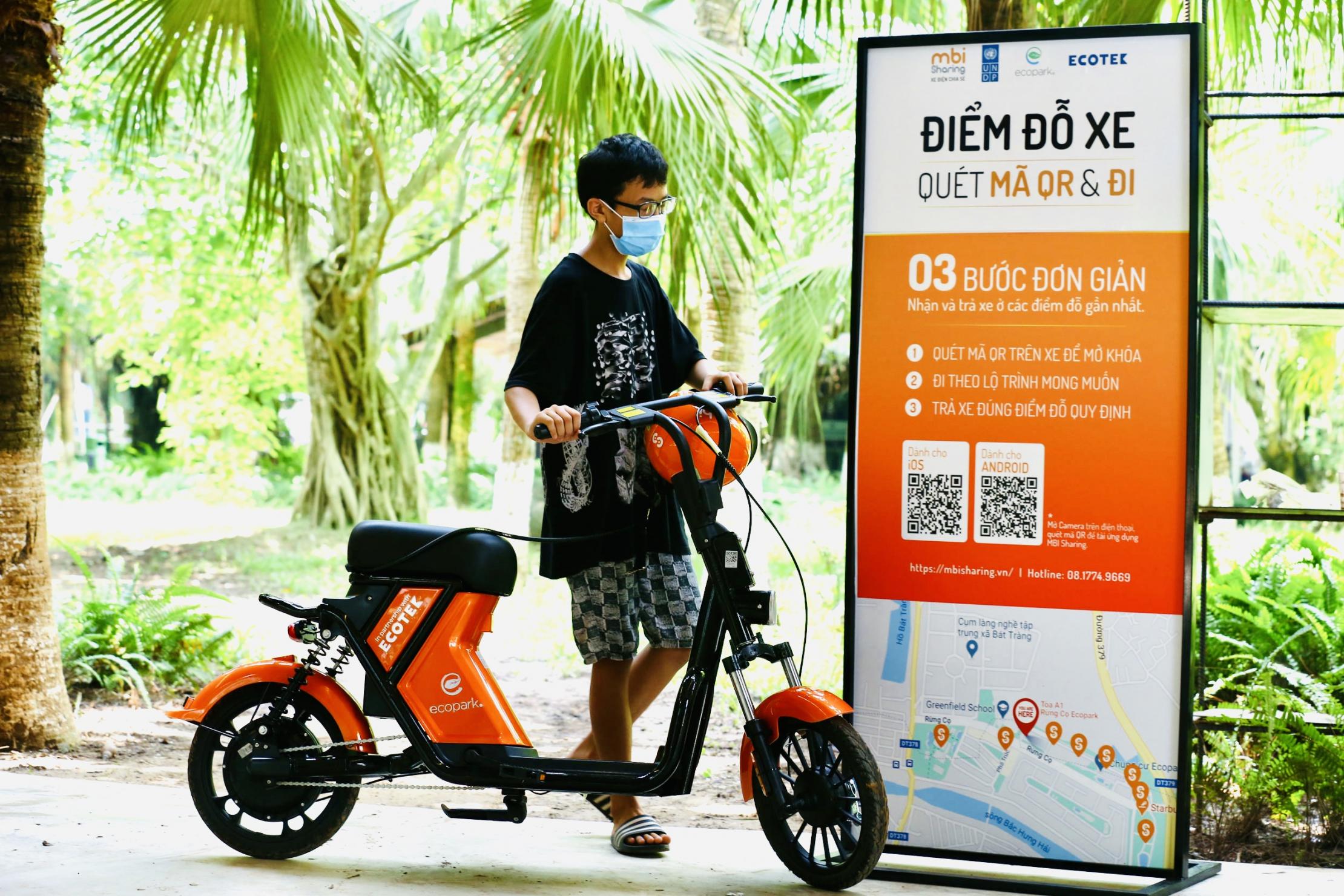 E-bikes in Vietnam. Credit: UNDP Vietnam
Bhutan: The small Himalayan nation is already carbon negative, blessed with abundant clean energy from hydropower, and keen on keeping the status quo. As part of their NDC, they have committed to reducing GHG emissions from transport – which make up 60% of energy related emissions. The rapid increase in the number of cars in the country is projected to increase carbon dioxide (CO2) emissions more than threefold by 2050 – a concerning trend. That is why Bhutan recently launched a project to accelerate the introduction of the EVs in the country. Already before this, over 120 taxi drivers had become early adopters of electric cars. Building on the success, the UNDP-Japan partnership will work to further raise awareness of benefits of the electric cars, build charging stations and equip key government agencies with EVs.
Viet Nam: Similarly, Viet Nam's climate ambitions include reduction of GHG emissions from the transport. In 2020, CO2 emissions from the sector were 47 million metric tons, and by 2030 they are expected to rise to 88.1 million under the business-as-usual scenario. To curb emissions and promote adoption of EVs, Viet Nam will pilot a preferential loan scheme to encourage people to make the shift to EVs and also provide electric-powered garbage trucks for waste collection in Hue City. In addition, the project will promote better understanding of the long-term environmental, health, and economic benefits of electric cars, as well as support development of a national programme on green public transport, including e-mobility and standards for EV charging.
India: For India, the transition to electric mobility has been a long-standing priority for the government, reinforced in the second phase of the Faster Adoption and Manufacturing of Electric Vehicles (FAME) scheme to promote EV adoption and infrastructure. The Climate Promise will be supporting this transition by identifying low-carbon, cutting-edge technologies in transport, establishing more than 80 charging stations for EVs across four cities, and creating green jobs in the sector and beyond, as part of a broader initiative to promote a low carbon economy.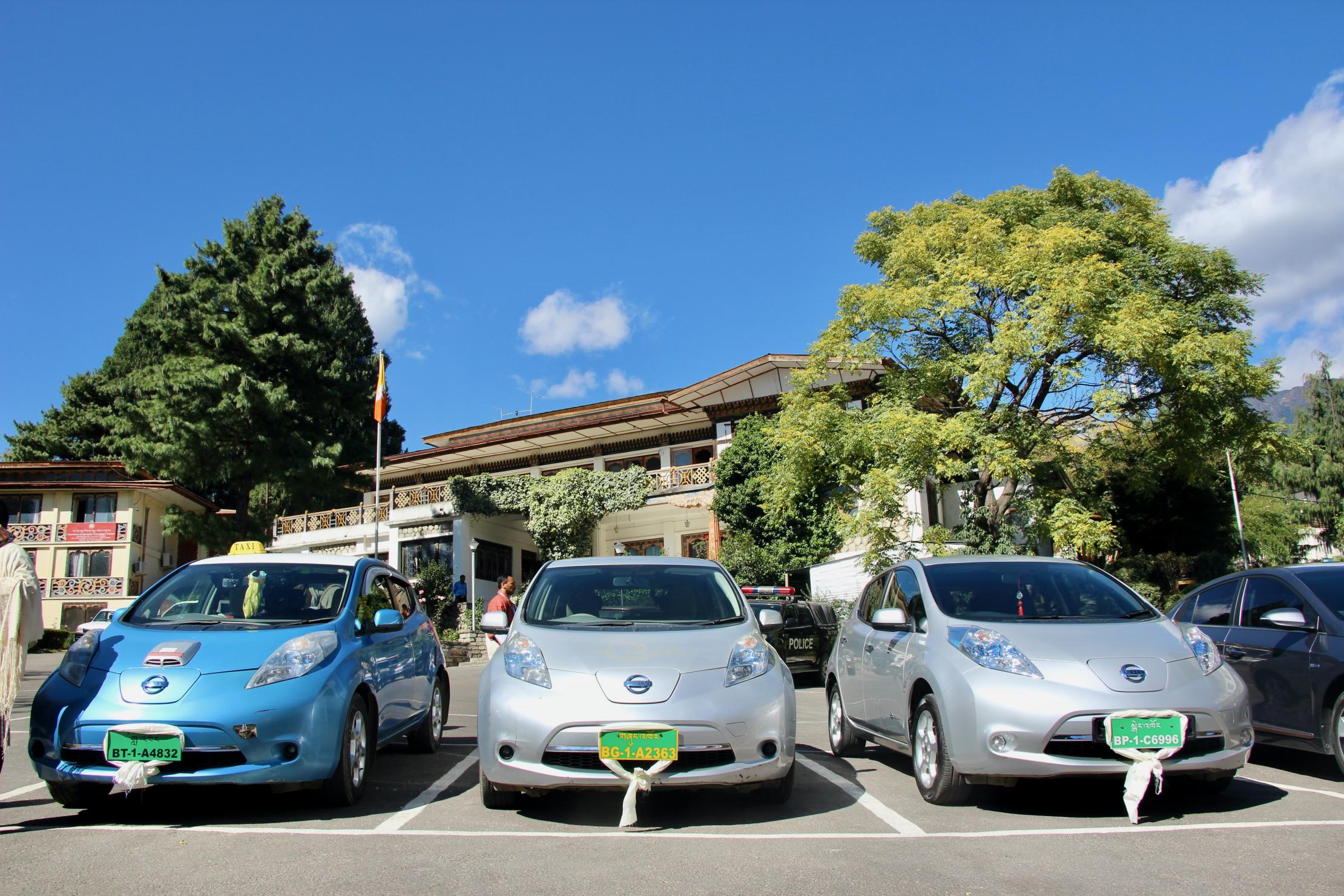 Credit: UNDP Bhutan
Projections by the International Energy Agency show that the number of electric cars, vans, trucks, and buses could reach 200 million by 2030. With bold climate action and financing incentives, numbers could reach as high as 350 million, contributing an even greater share to global emissions reduction goals.
EVs are certainly not a silver bullet for reducing emissions, and there are still issues to be resolved, from battery recycling to safety. Yet with 90 percent of the expected rise in the number of automobiles set to take place in developing countries, investing in e-mobility is both the right and smart thing to do – and it will be a huge step in the right direction when it comes to reducing GHG emissions and protecting the health of people and the planet.
Editor's note: Japan considers the climate crisis as a threat to all humanity and, in cooperation with UNDP, leads countries to accelerate their actions on climate action.
 
In 2021, UNDP launched a new phase, "Climate Promise: From Pledge to Impact," aimed at translating NDC targets into concrete action. Japan is the largest supporter of this phase and joins longstanding partners Germany, Sweden, the EU, Spain and Italy and new funding partners the UK, Belgium, Iceland and Portugal to accelerate these efforts.