Location
El Embajador Hotel
Santo Domingo
Dominican Republic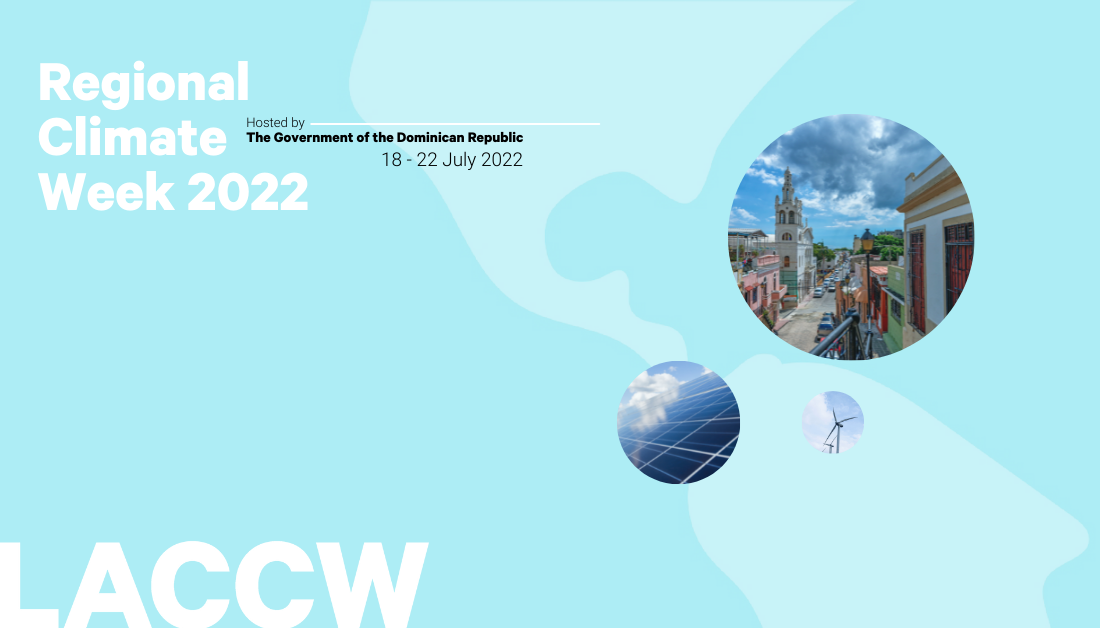 Latin America and the Caribbean Climate Week 2022 took place from 18 to 22 July in Santo Domingo, hosted by the Government of the Dominican Republic.
Latin America and the Caribbean Climate Week 2022 (LACCW 2022) offered an opportunity to advance climate action, taking regional priorities and COP26 outcomes into consideration. It was also a venue to integrate climate action into the economic recovery from the pandemic.
Hosted by the Dominican Republic and organized by UNFCCC in collaboration with UNDP, UNEP, World Bank, and regional partners UNECLAC, CAF and IDB, the event was the second of the Regional Climate Weeks 2022 and marked a return to in-person Climate Weeks in the region.
LACCW 2022 opened an opportunity to advance climate action, address social inequalities and invest in development that is good for humanity and nature. It was an inclusive platform to explore resilience against climate risks, the transition to a low-emission economy and collaboration to solve pressing challenges.
The event brought together governments, the private sector, cities, Indigenous communities, youth and civil society to accelerate the implementation of the Glasgow Climate Pact decisions and the Paris Agreement. Discussions were set to identify how national climate action plans can contribute to the Sustainable Development Goals (SDGs) and facilitate sustainable, equitable pandemic recovery. Sessions promoted collaboration to:
Deliver on existing commitments, including those contained in NDCs, Long Term Low-Emission Development Strategies, and the implementation of transparency provisions;
Mainstream integrated and risk-based approaches in planning at all levels and in all sectors, accelerate National Adaptation Plans (NAPs) implementation and resilience building; and
Share experiences on low-carbon development pathways and means of implementation for achieving carbon neutrality.
These discussions were advanced in Thematic Sessions organized into three tracks, each one convening stakeholders around a crucial theme for addressing the climate challenge. Side events also aligned with these climate action themes and the Action Hub showcased what is possible in these thematic areas and shared success stories for discussion. Finally, Affiliated Events convened sessions related to the UN Climate Change process.
Explore the LAC Climate Week Output Report here.