Location
Atlantis, The Palm
Dubai
United Arab Emirates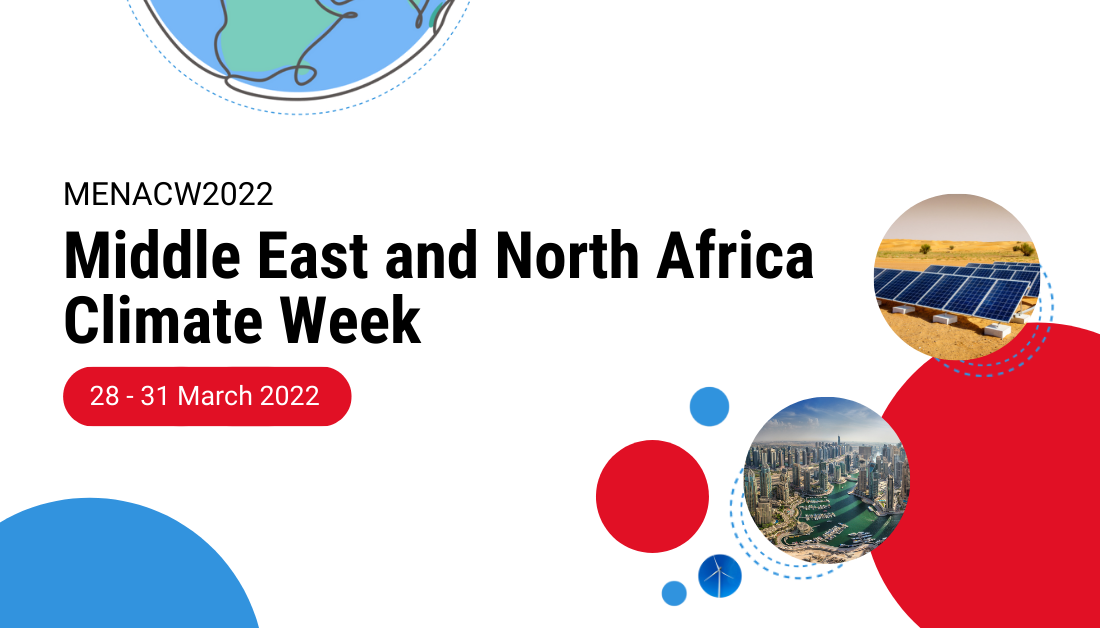 MENA Climate Week 2022 was held from 28 to 31 March in Dubai, hosted by the Government of the United Arab Emirates. 
The first-ever Middle East and North Africa Regional Climate Week explored resilience against climate risks, the transition to a low-emission economy, and collaboration to solve pressing challenges. It was an opportunity for governments, the private sector, cities, indigenous communities, youth and civil society to engage in solution-oriented dialogue, find common ground, and collaborate on enhancing climate action.
The event, hosted by the Government of the United Arab Emirates and co-organised by UNFCCC, UNDP, UNEP and World Bank in collaboration with regional partners, brought together key stakeholders to take the pulse of climate action in the region, explore climate challenges and opportunities, and showcase ambitious solutions. It welcomed over 4,000 participants with over 500 speakers from 147 countries in the region and around the world.
The programme consisted of 168 events, including 7 ministerial events, 18 track events, 46 affiliated events, 79 side events and 18 Action Hub events. The track events were organised along three themes:
National actions and economy wide approaches;
Integrated approaches for climate-resilient development;
Seizing transformation opportunities.
As a core partner of the Regional Climate Week series, UNDP led track 2, with sessions aiming to demonstrate how integrated approaches are crucial for accelerating climate-resilient development and advancing a climate-resilient recovery from not only the COVID-19 pandemic but also climate-induced disasters and situations of conflict in the region. By looking at local solutions on the ground and drawing on climate resilience and climate security expertise, sessions under track 2 focused on climate action and resilient recovery, climate action in fragile settings, and community-based adaptation in the region.
For more information, check out the resources below:
---
MENA Climate Week 2022 is hosted by the Government of the United Arab Emirates – Ministry of Climate Change and Environment (MOCCAE), the World Green Economy Organization (WGEO) and the Dubai Electricity and Water Authority (DEWA). The event is organized in collaboration with core partners UN Climate Change, UN Development Programme, UN Environment Programme and the World Bank Group. Partners based in MENA include the International Renewable Energy Agency (IRENA), Islamic Development Bank (IsDB), the League of Arab States (LAS) Secretariat, and the UN Economic and Social Commission for Western Asia (UNESCWA), among others.